---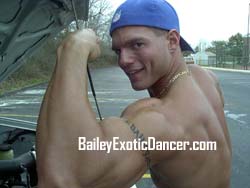 Premier Male Stripper in the Buffalo NY area. As of 7/1/20 I have done over 1,220 career parties in the Buffalo, Rochester and general Western New York areas, as well as Niagara Falls USA and Canada. I have also done thousands of stage shows at clubs, venues etc.
No other male exotic dancer, stripper, or adult entertainer in the area has the credits, reputation, dance titles or variety of routines and costumes to put on the level of Adult Exotic Dancer performance that I provide. So if you want quality fun adult entertainment for your location in Alden, Akron, Amherst, Boston, Buffalo, Cheektowaga, Clarence, Depew, East Aurora, Ellicottville, Hamburg, Kenmore, Lancaster, Riverside, Tonawanda, West Seneca, Williamsville or surrounding areas call today 716-472-9712 to secure your date.
My credentials include:
Being showcased in 2002 on MTV which aired a True Life documentary featuring my dancing.
I have won, and am the current Mr. Nude Entertainer of the Year for a record of 13 Times. (in a 15 year span)  UNDEFEATED 2001 – 2006!! I regained the title in 2008 due to my dedication! & won again in 2008, 2009, 2010, 2011 I sat out in 2012 and came back to win again in 2013, 2014 and 2016.
Won the Mr. Nude Niagara contest and Best Show Award held at Peppermints Nightclub in Ontario, Canada – June 2004.
Named Mr. Nude Galaxy 2003
Named Mr. Nude North American 2002 & 2006, 2007, 2008, 2010
Also have other various titles and have been featured on radio stations, film my own documentaries, am involved in personal training and hold a 9-5 job working in the health and human services field.
I have a passion for this business and love it. I hope you choose me for your next entertainment function!