Do you have questions for Bailey?  Click on the links below for quick FAQ's: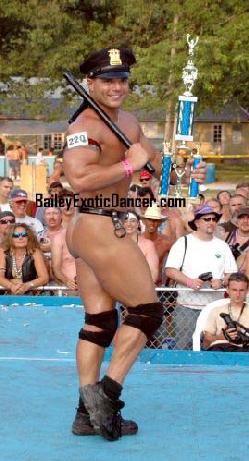 Will you bring an assistant?
How do I hire a dancer?
How far in advance do I need to book a party?
What are my costume choices?
What are my payment options?
Can a party take place at a place of business?
Can I tip?
Can I touch?
Can I take pictures?
What are the music arrangements?
What are your rates?
How are your rates compared to others?
Do you work for other companies?
Are men allowed to be in attendance at our party?
Do you strip fully nude?
Aren't most male dancers gay?
Do you have any black dancers or dancers that work for you?
Do you dance for all ages?
Are you single?
What do you look for in a mate?
Is "Bailey" your real first name?
Can you cook?
Do you wax or shave?
How often do you tan?
How often do you work out?
What do you eat?
How did you get started in the business?
How long to you plan on dancing?
Do you do anything else besides dancing?
What do you like about exotic dancing?
What do you dislike about exotic dancing?
What are your other interests?
What was it like being on MTV's True Life?
What's it like having ADHD?
As a guy, how do I become a dancer?
What are your future goals?
Do you still work at Peppermints?
What are the Do's and Don'ts of hiring a dancer?
---
Q – Will you bring an assistant?
A – I reserve the right to bring a male or female with me to my shows.  They specifically help with party set up and break down.
They are professional, know their role and respect confidentiality.
In this day and age it's for your protection and for my protection as an entertainer to ensure party safety and that we all have a good time.
---
Q – I've never hired a dancer before. How does it work? I'm clueless on this?
A – Let me start by saying that you hire me for entertainment and that is my goal is to entertain and to see that everyone leaves your party feeling that they had a good time and were entertained by the best male exotic entertainer in the business. My legacy has been to get people to rethink about the stigma that surrounds most male dancers.
Basically, we talk on the phone and after you agree to hire me, and I have all the information I need (Ex: address, time/date, contact people, contact phone #'s, type of party, costume, directions etc.) a typical show would work as follows.
For example, if I show up as a Cop as a surprise for a bachelorette party, I will knock on the door, enter the room and tell everyone that "we have had complaints for too much noise", or maybe another scenario that you suggest. I then arrest and handcuff the bride-to-be. They usually figure out by then that I'm a dancer so then I collect my fee, if I haven't already yet. Set up my music and put my suitcase of props in the corner, maybe we move the coffee table out of the way etc…Then go into my performance.
For the Cop show, music starts off with the Bad Boyz theme from the show Cops then moves into dialogue using the bride-to-be as the center of attention then moves into faster type music. Then I begin working the crowd, removing clothing, etc. I also use a variety of props such as whipped cream, chocolate, whips and a few more surprises. At the end I hand out my business cards, sell my signed posters & DVD's etc.

---
Q – How far in advance do I need to book you?
A – I get a lot of referrals from satisfied customers and book my parties on a first come first serve basis, often in the busy seasons (spring-summer) doing up to 5 parties in a row! Therefore the more advance notice you give me the better. However,  I have done parties at the last minute…Literally I have gotten calls 1 hour before they wanted me….If I'm available I usually do it. I will charge an additional late booking fee for this since I might have to change my plans for that evening to accommodate your booking.  If you call and I can't understand you or your just drunk or stupid, I'm not going to do the show.

---
Q – What are my choices for costumes?
A – I offer a wide selection of costumes including a Cop, Austin Powers, Superman, Cowboy, Dr. Evil, Firefighter, Striping Elvis, Rocky, Construction Worker, Doctor, Striping Clown, Pizza Guy, Business Man, Phantom of the Opera, Army Guy, Biker, Napoleon Dynamite etc.
As well as a very elaborate Veruca Salt/Oompa Loompa (Willie Wonka &the Chocolate Factory) act that I do for big venues/stage shows. I also have a Santa Claus act for Christmas time. I do honor special requests. Please go to my costume page for pictures. Please note that the costume you choose me to be in is only worn for the 1st song or two, I then begin taking off clothes stripping down to a thong.

---
Q – When do I pay you? What are your payment methods? Is a deposit required?
A – Payment is due when I arrive, prior to starting the show. I accept cash only. I do not require a deposit but will accept a depositing time prior to the show Once I have confirmed party / show arrangements.  If the party is far away, like Ripley or Jamestown, NY, or another state, Or Canada,  then I would require you send me a certified bank check or money order or pay pal deposit of at least $50. You are responsible for the entire fee of the show, regardless if not all your friends show up and you were counting on them to pitch in on the dancer fee! Likewise, if you hire me for an hour booking and decide you want a shorter show when I arrive, you still owe the hour long base fee. I might have had to give up a later show that evening because of your time slot therefore it's only fair I get the rate promised to me. If you hired me and I show up, and your business or family etc. will not allow me to do my show, you are still responsible for my fee.  Once confirmed, payments may be made by going to my Payments page.

---
Q – Can you dance at a place of business?
A – Sure, just make sure you get permission from the business owner to have me there. Likewise, if I am performing in a bar/restaurant again please get permission to have me there. If I show up and they don't allow it, you are still responsible for my fee and your guests as well as myself will be disappointed that I didn't get to perform! As I stated, I love to entertain! A note on hotel parties, I will do them, but I would advise you to have your party the earlier the better, because of the other hotel guests who will complain to the front desk about noise etc. If you have me before the hotel "quiet time" your usually ok, but if hotel security breaks up the party short, there's nothing I can do about that, again I don't refund any $.

---
Q- Are we allowed to tip?
A – Of course! I hope you would. I appreciate all my tips and the compliments I receive during a show/party. It allows me to know that you appreciate me and my show!!

---
Q- Are we allowed to touch?
A – Yes! I do a very physical show, meaning I do allow the ladies to touch, although, I do not tolerate any hard biting, smacking or other rude behavior. No 2 parties are ever the same. I feel out the crowd to judge how conservative the show should be. I like every lady to feel comfortable. If you don't want to participate, that's fine but I will not tolerate any rude comments from you. If you're truly offended by exotic dancers then maybe you should leave the room and not ruin it for those who do and myself! Maybe you should just go into the other room and piss and moan than instead of ruining it for us.

---
Q- Are we allowed to take pictures?
A – Yes! Please feel free to circulate good photos to your friends – Recommendations are always appreciated.

---
Q – What type of music do you use? Do you bring your own radio?
A – I usually bring my own radio (unless a sound system is available). As far as music goes if it is a theme-based routine, such as Rocky, Austin Powers or Napoleon Dynamite, I have actual voice dubbing and music from the movies. After the opening routine, I move into faster music as I work the entire room/crowd. I use everything from "Heavens on Fire" by Kiss, "Touch Me" by Joan Jett to hip hop from DMX and Lil Jon. I also use "old school" music, which the girls like as well, songs such as "Rump Shaker", "Baby Got Back" &"Doin It" etc. Trust me. I get no complaints on my music selections. After the opening song, I'm in a sexy thong . . . so you can enjoy me!! I don't stay as Austin Powers or Dr. Evil for the entire show.

---
Q – What are your rates?
30 – 60 minute shows (depending on crowd and tips) are $275* cash
* I require at least a $100 PayPal or Venmo deposit.  Cash balance due upon arrival.
Long distance shows add expense for time & travel & distance.  
    Example: 
          Ellicottville, NY shows are $450 total ($200 deposit required).

Any shows in Canada $550 minimum fee.  The border harasses me, so I don't accept last minute Canada parties.
Once confirmed, payments may be made by going to my Payments page.
***Driving fee required for shows that are 30 minutes or more driving time***
****DISTANCE FEES VARY DEPENDING LOCATION, TIME OF YEAR & TRAVEL TIME**** 

---
Q – But I can get a dancer for $90 – $100.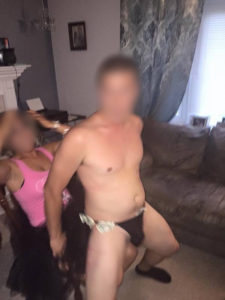 A – So what!! Let me ask you this . . . what's more important to you for your occasion . . . saving a few bucks and not being happy with the show or getting the dancer you want who puts on a great show and delivers something you will never forget?  After all, you may end up risking getting someone like this guy at your event!
Plus it's been my experience that many companies are not very reliable! I have heard countless times of dancers who show up with a poor body, looks, personality, no radio or costumes, or don't even show up at all!! I'm proud to say that I have only missed one party in all my years, do to unforeseen winter car trouble.  I am reliable and you will not be disappointed.

---
Q – Do you work for other companies?
A – Yes I do . . . But if you hire me, I prefer that you contact me directly. Reasons being that you deal with me directly and there is better communication. Also, I pay for my own advertising so the entire fee should do directly to the dancer. Plus, I am a bit cheaper than the companies I work for! Often the girls call 1-800 numbers thinking there is a abundance of great dancers in every city, however its just not so. The company takes a non-refundable credit card fee, then simply call me to do the show, and thus you paid more $ and I made less $, and the show came to me anyways. Many losers think because they saw the movie magic mike that they can be a dancer, and you just show up and grind on chicks. Nothing could be further from the truth. Many of these guys have no clue what they are doing, no website, no costumes, and do not last very long.

---
Q – Were having a party for my friend's B-day and there will be men and couples there in attendance as well. Is that ok?
A – Yes that's fine. In fact often the husbands/boyfriends get a kick out of the humor and things I do in my shows. Often they will even give their ladies $ to tip me with. If a couple is sitting together and I'm working the room, I will often ask the man if he is ok with me dancing for his wife/girlfriend out of respect. If they are not interested they usually hide in the corner or something. I don't mind who's in attendance as long as they are not rude to me.

---
Q – Do you strip to fully nude?
A – I usually dance down to a thong. It has been my experience that MOST women do not want to see it all anyways! If a full nude show is something you absolutely must have, this MUST BE DISCUSSED WITH ME PRIOR TO YOUR PARTY & WILL REQUIRE AN ADDITIONAL FEE/ACCOMMODATIONS. Out of over 1,113 parties, I've done maybe 40 full nude shows. Minimum fee for Full Nude show is $350.

---
Q – Aren't most male dancers are gay?
A – To be honest NO!!! I really HATE that stereotype of dancers! It usually comes from jealous boyfriends who need some way to cut a dancer down in front of their girl. To make themselves feel better or whatever! In fact many male dancers at the Gay clubs are even straight! So please leave your stereotypes of a dancer at the door! I personally date females only. But I'm very appreciative of all my fans and admirers whether you are male, female, black, white, young, old etc.

---
Q – Do you have any black dancers or dancers that work for you?
A – No, I work for myself and do not employ other dancers. If for some reason I may not be available for the weekend you want, which is very rare, I might be able to contact somebody for you and you would pay me a referral fee, or they would give me a % of the base fee. As far as you wanting a black dancer, don't assume if you have an all non-white or mostly non-white party that they will not like me! I have done all black, Puerto Rican and Hispanic parties and they loved me just the same! They were a lot of fun!

---
Q – Who's the oldest person you have danced for?
A – An 80 – year old woman, for her birthday, and she loved it! She participated and was a riot! I want everyone to enjoy my shows.

---
Q – Are you single, married etc?
A – Many females I have dated or have had serious relationships with often were from performing at clubs or parties. As far as being single or not, that is my business….but I will say this. Anything I do I do with passion and give 100%. Whether it's dancing, personal training, or a relationship, I'm the type of guy who gets the car door for a girl every time, buys flowers, writes little notes and texts her to let her know I'm thinking of her, cooks her dinner then gives her a massage. However, Most women are either intimated to get involved on a personal level, or simply would be too jealous and insecure to be with a man like me. It takes a special woman to be with a dancer. Or I find these days they simply want attention and want to waste your time with endless text messages, yet are always "too busy" to get together. Thus often I find it more rewarding to spend an off night dancing with my dog zeus, building things for my new website manicbirdhouse.com playing tecmo super bowl, etc.

---
Q – What do you look for in a mate?
A – First, they have to be able to accept me 100%. Know yourself…If you know you can't handle a relationship with a dancer…then don't even try it. Don't try to change me…cause you won't and just wasting both our time. Not be jealous, understand that I love dancing, and be happy that I'm happy. Honest, faithful, rock my world in the bedroom yet also a sweetheart. Be able to laugh at things. Handle my ADHD (attention deficit hyperactivity disorder)
Furthermore, I got a vasectomy and don't want kids. No offense to those who have them…. Sorry it's just not for me. I love my nieces and nephew, I can take them places and have fun etc. I'm the awesome uncle who dresses up as Santa Claus for X-mass! After all I have the costume! But when I'm done I can drop them back off. I enjoy my freedom of not being a parent. I get up when I want and do as I please. My "kids" are my pets long hair chihuhahua "Zeus" my cat "Helsinki Cat"and my snake, a Red Tail Boa named "Victor" and I love them very much.

---
Q – Is "Bailey" your real first name?
A – No, it's my stage name. A TV show called "Party of Five" had an actor by the name of Scott Wolf and on the show his character was named Bailey Sallinger. People had said I looked like him….we have similar jaw lines and dimples. I liked the name so when I needed a stage name I chose that and it stuck. It stuck so much I had it tattooed on my arm because it represents something to me. It represents kicking ass, and marching to the beat of my own drum, and doing what you want in life, regardless of what others think of it. It's like my erotic side. Being in "Bailey Mode" as I call it, means freedom.

---
Q – Can you cook?
A – Ladies, BAILEY is one hell of a cook!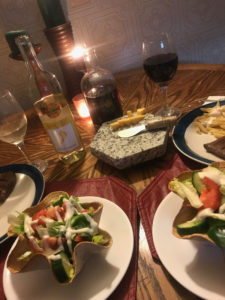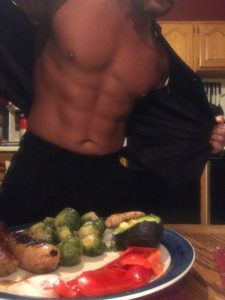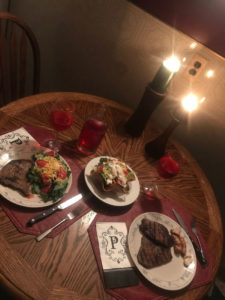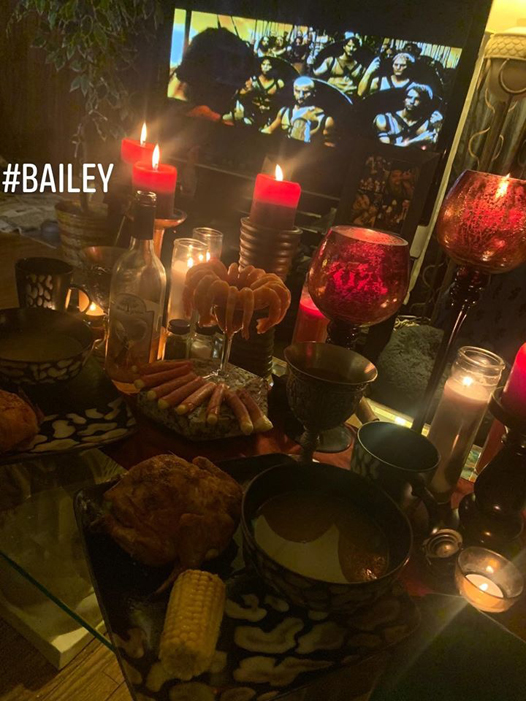 ---
Q – Do you wax or shave?
A – I shave my chest everyday, my ass, armpits and 'landing strip' 3x's per week. I shave the rest of my body once per week, usually on a Thursday or Friday since my shows are mostly on the weekends. I'm not a hairy person to begin with and am not a fan of body hair.

---
Q – How often do you tan?
A – Usually only 1x per week, unless I'm getting ready for some sort of event, then I will increase it. In summer I will lay outside in my thong even if I can in a secluded area. I think a thong tan line is very sexy.

---
Q – How often do you workout?
A – I train each body part only once per week. Maybe Someday I will build back up my personal training site and have training videos and a book I hope. But my training spilt is usually as follows:
Mon- back & shoulders, Tues- legs, Wed or thursday- chest, arms, abs. That's it for weights…I hit it hard and heavy and go home. If I am training for a contest I add cardio 3 – 6x's per week before breakfast. I do 30 – 60 minutes of the recumbent exercise bike or stationary bike while I play video games to pass the time, because I find cardio extremely boring. In summer I might go for a jog or brisk walk.

---
Q – What do you eat?
A – I prefer the low and no carbohydrate diets. They work and are better for me with my ADHD. Carbohydrates make me sluggish and give me gas in addition to putting on body fat. Not a good thing for a dancer and trainer! I eat whole eggs, tuna fish, chicken & meats whey and casein protein powder, flax oil, nuts and berries etc with salads. 5 – 6 small meals per day. I usually take a Sunday and eat what I want such as my favorites pizza, mint chocolate chip ice cream, 5th Avenue candy bars etc.

---
Q – How did you get started in this business?
A – A friend of mine suggested it to me, since I began lifting weights for football at the age of 14; I had developed a good physique. In college I had to interview someone about their job. I knew this guy from my gym who was a male dancer, and interviewed him for my project which intrigued my curiosity even more. The more I thought about it the more it made sense. I got some stuff together and auditioned at a club. I had a good body and good ideas, but overall I wasn't that good my 1st time on stage. So I thought maybe it was not for me. Months later I still thought about it as I knew in my heart it was my calling to be an entertainer and do my own thing! I had just gotten my heart broken, and lost my day job and began working at a bar selling shots. Everyone seemed to like me and was attracted to me. I had one of the performers there help me put some ideas together. My 1st ever costume was the stripping clown, as I wanted to use humor to work the crowd. I auditioned for a company and they hired me right away. Then I began adding more acts like Austin Powers, Cowboy etc. more props and became more and more comfortable. Within as little as a month, word had spread and I was being sought after for many parties. My 1st year I did 141 parties which is very good for a male dancer. When I was in Ohio attending pro wrestling school, there were clubs to dance at instead of parties. My stage presence grew, everything evolved. In 2001 I won my 1st exotic dance title in my 1st ever competition. Ironically in 2004 I won the Mr. Nude Niagara on the very same stage I got laughed at years prior during my audition. My creativity and passion for the business keeps me going and I create very original acts, props, and ideas. Being an exotic dancer is something you can or can't do. I might have needed a bit of help, but I took the ball and ran with it and never stopped improving and learning. Please don't confuse the difference between being confident and cockiness! I love what I do and people say it shows! How many people actually like there jobs? Not too many. I can honestly say that I love it and I don't do it just for the money, unlike most dancers who are just "strippers" I'm a entertainer who just happens to take clothes off during entertaining people.

---
Q – How long do you plan on dancing?
A – Until it's no longer fun and feels like just a job! Male dancers who take care of there bodies often can dance well into there 40's.

---
Q – Do you do anything else besides dance?
A – I have a BA degree In Human Services, basically, helping people with developmental disabilities or mental illness etc. Doesn't pay very much but can be rewarding. Some of my "clients", as we refer to them, are the most genuine people I have ever met and very appreciative at times when you help them. Plus it makes me appreciate what I have even when I'm having a bad day because it could always be worse! Unfortunately,  I have been fired from some day jobs when a few "haters" in the company find out who I am.

---
Q – What do you like about exotic dancing?
A – I love to entertain a crowd. It's a rush. I love walking into a room full of people and have their complete attention during a show! I love my fans and the nice people I meet at my shows. I love the people who come to see me every year defend my Mr. Nude Entertainer of the Year title. I love the compliments I get during and after my performance. The money can be great especially in the busy warmer months. Most of my friends and or girls I dated, I met from dancing at their parties or a club. It's fun to be recognized and remembered years later after I did a party.

---
Q – What do you dislike about exotic dancing?
A – I HATE when people are rude or judge me, yet know nothing about me except what they see in front of them, or saw on MTV. Old saying…"If you have nothing nice to say to someone then say nothing at all." People often tell me…don't take others negative comments so personal! My response to you is "Why wouldn't I take it personal!" I have a passion for what I do, I put out a lot of time, $, and effort into it, so, why wouldn't it bother me when someone is unjustly negative. I hate the stereotypes of ALL dancers being, gay, on drugs, low-life scum's of the earth. Yes some are but not all of us. I hate the fact that I have been fired from several jobs because of who I am. People tell me it's not right and its not, but it still happens trust me! I HATE when people have slashed my tires several times, just to be an ass. I had to move once because of it. I HATE the stupid prank calls… they are so lame!! Did you stay up at night thinking of what to say? I don't like when people who hire me give me bad directions! Or other general rude behavior such as biting, hard ass smacking, trying to steal my props, or girls so drunk they are obnoxious and crude. LASTLY, I HATE BEING REFFERED TO AS A STRIPPER! The term "stripper" brings up many negative thoughts in people. I prefer to be known as an "Exotic Dancer" or better yet my own terms…an "Exotic Entertainer." Anybody can take there clothes off! But not everyone can entertain!

---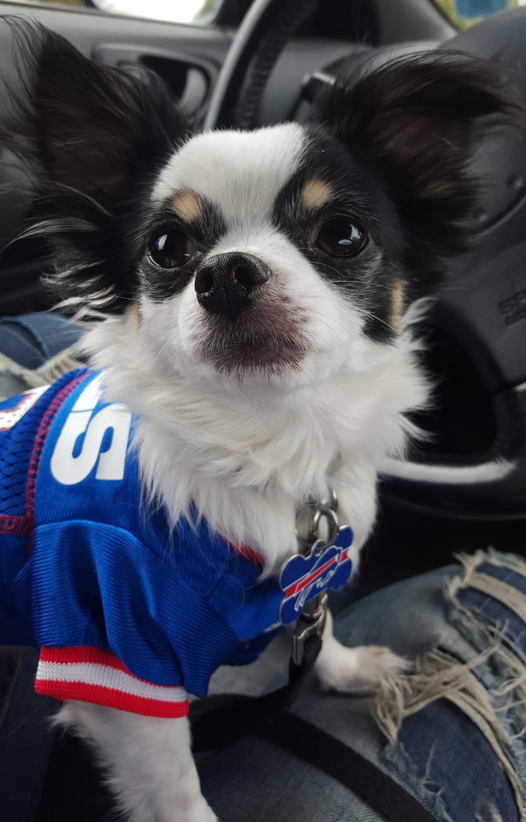 Q – What are your other interests?
A – In my "down time" I enjoy woodworking – making unique lawn ornaments and bird houses, playing organized baseball and spending time with my pets.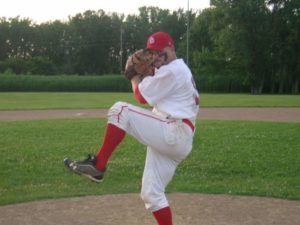 ---
Q – How did you get on MTV's True Life? Were you paid? Did you like the show?
A – I was looking at there site to try to see where they would be for spring break one year. I saw ideas for a new show, I emailed them, and they emailed me back and asked me more questions. I emailed them back more details and then the producer called me up directly. He could tell I had charisma and was an interesting person. They filmed for 1.5 years and had over 80 hours of footage. It wasn't supposed to be a True Life at first; it was going to be part of another show. They really liked me and continued to film. No, I was not paid. What I liked was the coverage of me at the Sun Club winning my 1st Mr. Nude Entertainer of the Year title in 2001 & the dancing footage in general. I also liked the coverage of me winning my class in the 2002 Mr. Buffalo bodybuilding contest.
What I didn't like is that the show was called "True Life, I'm in Therapy" but was really about sex, drinking, stripping, arguing with my girlfriend about me dancing, with a little bit of therapy that at times made people think I had a spilt personality or something.  I went to therapy because I was suffering from depression very badly when I moved to Ohio being away from family and friends. I always thought I was a bit bi-polar or something.  It turns out I have ADHD and mild depression. Exotic dancing is actually therapeutic for me, because it puts me in a great mood and is my favorite thing in the world.  I thought the show should have touched more upon ADHD, depression and the improvements I made, and steps I took to make them.  Although it seemed more about stripping that's why so many people come up to me and say "hey your the guy from MTV…True Life – I'm a Stripper." That's not what the show was called, if they wanted to do a show ALL about dancing the ups & downs and how it affects relationships etc.  That's fine, do it and call it that.
It's helped my exotic dancing and personal training business although bad for any day jobs I have held. It's nice to be recognized by people often and the nice things they sometimes say. The show was entertaining, that's for sure. So I don't regret it. Hey, how many people can say they had a whole documentary shot on them? By the way, it's the only True Life, to date, that was about one person. Usually there are 3-4 stories/characters per episode. They did a short follow up show as well. No, I am not involved with the girlfriend from the show. I moved back to Buffalo and we spilt up, but remained friends. She was, and is a great girl – we were just not right for each other.

---
Q – You mentioned about ADHD….what's that like?
A – I didn't get diagnosed with it until I was in my 20's.  Actually after I finished college!  When I got diagnosed with it, I read the book called "Healing ADD" by Dr. Amen and I highly recommend it for anyone who truly thinks they have it.  The book described me 100% and my whole life made sense to me.  My form of Attention Deficit Hyper Activity Disorder is called "Ring of Fire" basically a combination of all the other types!  My symptoms are extreme talkativeness, impulsivity, take on more than I can do, bored very easily, trouble concentrating and focusing on the task at hand etc. The true ADHD brain does not fire up adrenaline like a typical brain would for everyday normal tasks. Therefore I love a rush to make me feel alive.  I know this and can use my ADHD as an asset.  For example, people with ADD or ADHD need a rush and being creative provides a rush…so many of us become self employed and are the most creative people out there! So it makes sense why I love exotic dancing so much!  There's no limit to my creativity and thus my potential!  I will always try to raise the game.  This creativity has led me to 5 straight Mr. Nude Entertainer of the Year exotic dance titles amongst others.  It's helped me come up with new routines and props. I like to be original and try to do what's never been done. If you suspect you have ADD/ADHD I recommend you research it and try to use it to your benefit whenever possible.

---
Q – I'm a guy and want to be a dancer, any advice for me?
A – First and foremost be attractive and have a good body and personality. Without those 3 things you're doomed!  Second, realize that exotic dancing is much different then going out to the local club and grinding on some chick.  I recommend that you go to a strip club and watch the other guys and even the ladies.  Notice the stage presence, the psychology of it, the music, etc.  Take it all in.  Then come up with your own ORIGINAL ideas, etc. Costumes, props and originality can go a long way.  Then maybe practice for your lady friends, start with giving them lap dances…then incorporate music, costumes etc.  The bottom line is that you might very well suck at 1st, but if it's truly meant for you, it will happen. Unfortunately I have seen many people who I don't think should be in the business at all, and are just embarrassing themselves.  They sucked when they started and still suck. So many guys think it's so easy, until they get up there and find out the hard way. If it was so easy, why are there so few of us?  Think about it!  Lastly if I ever get around to making my own exotic dance DVD, you might consider buying it to pick up some things.  Just don't copy me bastard!

---
Q – What are your future goals?
A – I would like to live by or on a beach, where I can dance often, do personal training and other self employed businesses. I would like to write a book on my life as an exotic dancer and am considering returning to studies to learn hairdressing.  Live with my romantic partner, my cat & snake and just live life to the fullest.

---
Q – Do you still work at Peppermints?
A – No. My dancing papers expired and I chose not to renew them since the majority of the parties I provide entertainment for are in the United States. Peppermints gave me the opportunity to meet a lot of nice people and gain exposure for my dancing.

---
~  BACK TO TOP  ~
---
HIRING EXOTIC DANCERS: DO'S AND DO NOT'S
DO: Give me accurate directions & complete address with zip code.
DO: Be ready when I'm ready to start the show.
DO: Have the base fee for me before I start the show.
DO: Call or text me & re-confirm the party 7-10 days in advance.
DO: Make sure if the party is at a bar or business, you get permission to have me there.
DO: Offer me a drink & some ice water. It's only polite.
DO: Be patient, if I am coming from another party & running a few minutes late. During busy season, I may do up to 4 parties in one night!! If I am running late, I always call to confirm that I am on my way.
DO: Call me with any changes ASAP.
DO: Provide adequate ventilation if it is hot. A Fan and / or air conditioning is appreciated.
DO: Participate!! The more you're into the show the better the experience is for everyone!
DO NOT: Be rude with cruel comments, pinching, smacking my ass harshly, etc. Treat me as you would want to be treated.
DO NOT: Judge/stereotype me. I am not on drugs, gay, stuck up, formerly abused or a criminal!  Yes, I do have a college degree and a day job as well! I was even in grad school for a year.
DO NOT: Demand me to go fully naked at your party, unless it is agreed upon earlier.
DO NOT: Call me up on very short notice to work you party then try to offer me less $$ than my standard base rates!  That's rather rude.  Would you like your work to call you up at the last minute for you to come in, then give you LESS then your normal pay, probably not.
~  HOME  ~ | ~  BACK TO TOP  ~